Before we dedicate ourselves to the preparation for 2020, we want to review the past seventh Feel Festival together with you.
Right at the beginning we were allowed to share a heart project with you. In order to save paper resources and to protect the environment, we wanted to break new ground in the area of the program. As part of a student project, we have developed a Feel app within the team that was able to display the timetable, the map and the most important FAQs completely without paper.
Unfortunately, not everything went quite this way on the technical side this year, but we see this as an incentive to further develop this for 2020 and thus to reduce the demand and consumption of print products more and more. Also the further developed version should, like already already the current version, work offline and lead you unerringly to your highlights in the program and to enable you a better orientation on the area. And should the battery ever run low, you can confidently turn to our solar charging stations, then again fresh and full of energy to start the festival bustle.
In order to develop each year further and to be able to keep many surprises in store for you again and again, something familiar sometimes has to give something new. Once completely turned over, the former Prince Charles Floor now shone as Kreuzberg Floor in a new guise.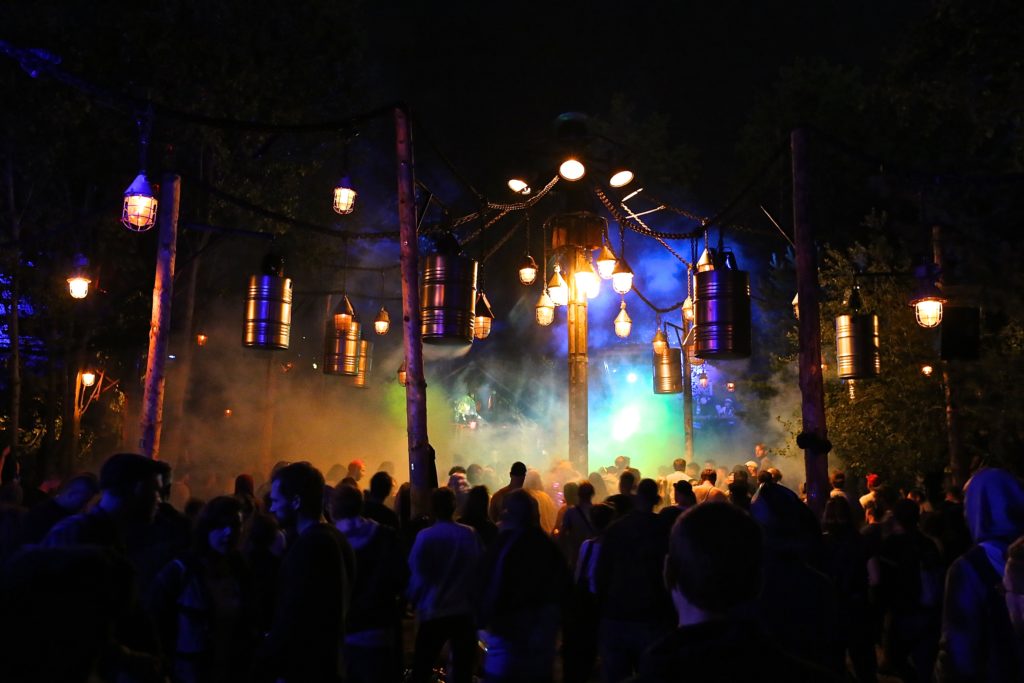 Also on the Hohe Düne, Edward Ean and his crew have created many new elements, chill-out areas and light installations to give the great acts a fitting backdrop that not only lets you hear the beats, but also lets them feel and see.
As every year, our Strandfloor was completely redesigned and shone as a temple of fortune with a gigantic height of 13 meters.
This fantastic concept was planned in months of preparation by WOAK and ultimately build by Meta Visions.
A big thank you at this point to all crews, collectives and helpers who were involved in setting up the festival – without you the creation of this parallel world would not have been possible!
In addition to all the dancing and celebrating, we also want to live up to our socio-political responsibility. Therefor we have used another innovation in the field design to draw attention to an important problem in connection with the global climate crisis.
You've probably already noticed that we decorated the camping areas with names this year. These should not only help you orientate yourself better on the grounds and easily find your camp again after a night of dancing. But they should also create awareness of an important topic. From Amsterdam to Vanatu, we have chosen picturesque places in the world that are all threatened by rising sea levels or have already fallen victim to them. Climate Change is real! It is a crisis that we not only need to be aware of, but it also demands that we actively change our actions.
As we are already on the topic of climate and environmental protection, we want to share here again our thoughts and intentions on the subject of garbage deposit with you. We know that this has once again become a hot topic this year and we would therefore like to explain to you again why we consider the garbage deposit to be useful.
First of all, we would like to emphasize once again that the garbage deposit should not be a punishment for those who reduce their waste and thus may not get a whole sack full on a weekend. We are dealing here with a principle of solidarity – a collective idea, which has the aim of freeing the area on Lake Bergheider as quickly as possible from garbage and returning it to its original state in order to give nature time to regenerate itself. Here we depend on the help of you all!
Since it can not be understood who has produced how much garbage, just the same right applies to everyone and that means full of garbage bag against garbage.
It is wonderful and exemplary when some of you take care not to produce garbage.
Unfortunately, we also know from experience that still more than enough waste accumulates on the site to fill every garbage bag.
We still hope for your understanding.
It's not about punishing you who do not produce a lot of garbage, but about everyone being asked to take a full garbage bag from the site to the recycling station – no matter who the waste was ultimately from.
We're glad to have you as our feel-family, always with constructive feedback, instead of dull bashing. Your remarks will not just be shattered, but we'll be happy if you help us to improve the festival together.
You have suggestions, criticisms or ideas? Let us know, because that's the only way we can grow! Feel free to visit info@feel-festival.de or via Facebook / Instagram.
We will now take the time to work out inspirations in order to maintain the familiar atmosphere of the Feel and still to realize an exciting Feel Festival 2020 with new ideas.
Thanks for everything and see you soon!
Your Feel Crew