Zum Inhalt wechseln
It is well known that festivals have a problem with garbage and rubbish left indiscriminately on the festival grounds. With five days of celebration and little sleep, people tend to forget what amounts of waste can be produced in such a short time. This is usually only visible when the festival area slowly empties. But garbage is not only problematic after a festival. Even during the festival, the subject of garbage presents us and visitors with ever greater challenges. So we have to ask ourselves the question: what can we as organizers do, and what can you do as a visitor to get this under control?
Every festival visitor leaves an average of 15 kg of waste during a festival. We believe in our eco-conscious feel-good friends and are convinced that it's a bit less, at least at our festival. Nevertheless, we have taken just under three weeks to free the area from the leftover waste. And we're not talking about ordinary garbage here. Lying tents, pieces of furniture and refrigerators are not uncommon and must be disposed of as bulky and hazardous waste in a time and cost intensive manner.
Of course, a festival always means an exceptional situation. A weekend away from the rules and obligations of daily life. When most people return to their everyday lives on Monday, it is easy to forget that Bergheider See is again turning into a public area where people go for walks and children play.
Now, the question arises, which strategies are developed, and how visitors can participate in minimizing the amount of waste generated and relieving nature.
In order to limit the quantities of waste already in advance, we consider it essential to consider well what you are packing before you arrive. Please avoid bringing bulky sofas, electrical appliances and barbecues that are destined to remain on the festival grounds right from the start.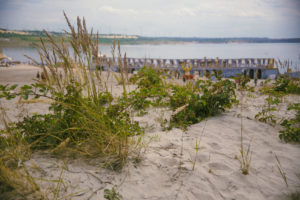 The situation is similar with excessive quantities of food and glass bottles. We give our visitors the freedom to bring their own food to the festival area and do not want to change it. However, it means incalculable masses of packaging waste and shards on the entire site. Not to mention the sad sight of the still edible food, which remains in the mud every year.

Our appeal is therefore: Pack wisely and bring only what you can consume or intend to take back. Your tent deserves a second life too!
It is unavoidable that large numbers of garbage accumulation will occur during the festival with more than 20,000 visitors. So it's up to us to provide you with enough disposal options. Your stimulating criticism and our observations at the festival have shown that there is still room for improvement regarding the refuse bins installed on the site. We would like to empty these regularly at the upcoming Feel Festival to avoid overfilling. We also check if it makes sense to separate the waste during the festival. This could be done by color-coded containers. At the entrance, we also distribute garbage bags and will have them ready during the festival. Everyone has the opportunity to dispose of their waste directly at their own campsite.
The biggest item in garbage disposal, however, is still the cleanup after the festival.
Some campgrounds are similar to battlefields and the uneven terrain makes cleaning even more difficult.
Many of you are already very exemplary, but unfortunately some are not.
That's why we decided to reintroduce a garbage deposit.
We bear the cost of cleaning up and removing the garbage.
That these costs do not unnecessarily burden the ticket price, we think that a garbage deposit is the right way.
In this way, we can remind our visitors of the importance of their own waste disposal and shorten the clean-up work and relieve the burden on nature.
The garbage deposit is 5 euros and is included in the ticket price.
You will receive these in exchange for a full garbage bag and the garbage deposit chip you receive at the entrance.
Following the principle of "Leaving no Trace", we should all try to leave a place as we found it. We use nature as a free, breathtaking scenery and must at least ensure that it will be preserved for a long time!
A big thank you goes out to all those who are already careful about their garbage and those who are planning to get better. We also need to optimize things and work on developing new strategies for the Feel Festival 2018. Thus, together we will succeed in relieving nature and make your stay even more enjoyable. For suggestions of any kind, we are as always open and thankful!